**new** map of collections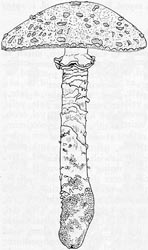 Type species: Amanita vittadinii
(Moretti) Vitt.
[≡Agaricus vittadinii Moretti (1826)].
Amanita subgenus Lepidella is defined as comprising all and only those taxa of the genus Amanita that bear spores that are amyloid, i.e., have spore walls that become darkened by exposure to iodine (e.g., Melzer's Reagent).