**new**
see as sporograph
**new** map of collections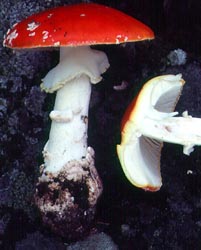 The type for this autonymic taxon will be that of the genus: Amanita muscaria.
N.B.: The name of this taxon will be an autonym generated by the publication of other taxa at the same rank in Amanita. Such taxa are provisional and being evaluated presently by RET and ZLY.

Amanita series Amanita is proposed to comprise all and only those taxa of A. subsect. Amanita that have medium to large basidiomes and bear friable (infrequently subfloccose), irregular warts on the pileus, multiple rings of limbus internus material (very infrequently cohering in a ocreate volva or, in an exceptional taxon, leaving few remnants) on the lower stipe and/or the upper third of the stipe's basal bulb; and broadly ellipsoid to ellipsoid to elongate spores.   This application should be considered to be "in the sense of Tulloss and Zhu L. Yang."